Clare Island Walking Loops
Terrain: Surfaced roadways & green tracks
Distance/Difficulty: 3km/ Easy
Ascent: 90m / 90m
Duration: 1 hr – 1hr30mins
The trailhead is located at a gable wall 50m from pier. Veering right at the first Junction and passing the Granuaile House both loops reach a Y-junction. Veer left here – following the signpost for 'All Routes'- and continue along the surfaced roadway for 1km to reach the second 'bohereen' on the right. The Fawnglass Loop (green arrows) turns right here – the Knocknaveen Loop continues straight. Following the bohereen uphill and through a series of three gates the Fawnglass Loop reaches Q-junction with a green track (where it rejoins the Knocknaveen Loop on its return) and turns sharply to the right to begin the descent to the pier again. Ths route takes you by Granuaile's Castle. While you can't go inside the castle, it's still worth a visit to see where Grace O'Malley, the Irish Pirate Queen, once lived.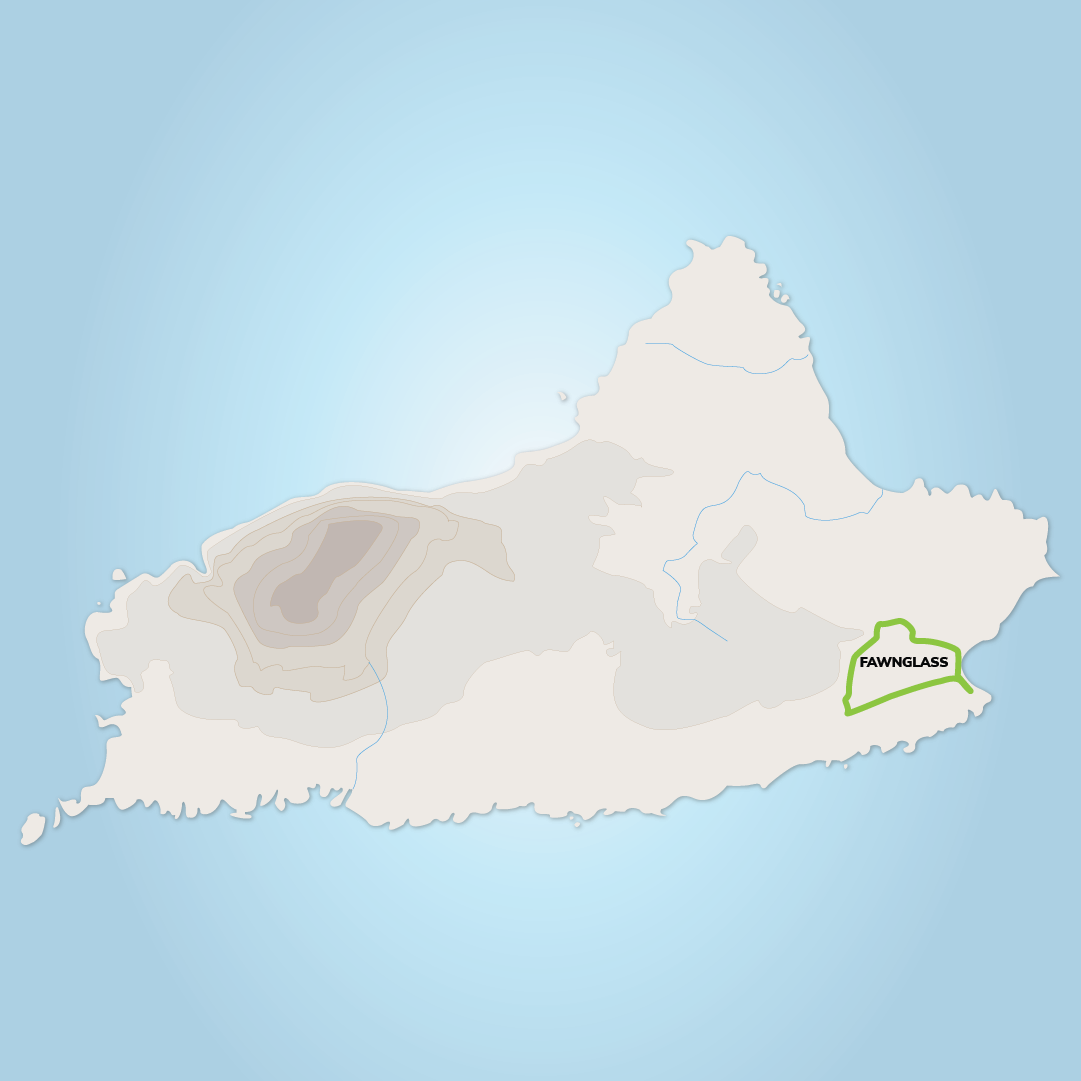 KNOCKMORE HILL AND SIGNAL TOWER LOOP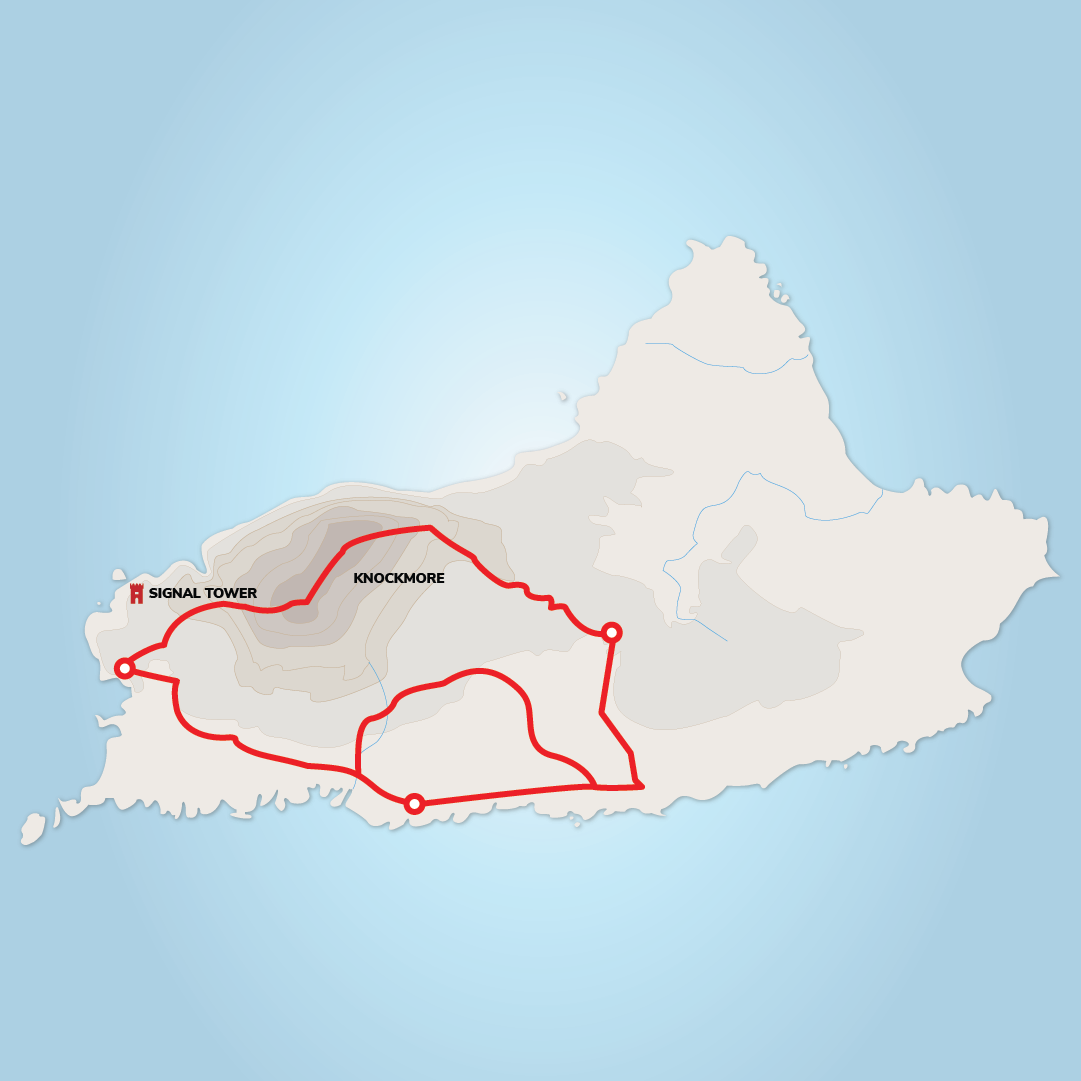 Terrrain: Surfaced roadways, green tracks & steep/potentially pathless boggy slopes.
Distance/Difficulty: 10.1km / Moderate
Ascent: 485m
Duration: 3hr30mins
The Knockmore Hill and Signal Tower Loop follows on from the Knocknaveena Loop. This great hiking trail extends out to the seabird cliffs, to the Signal Tower and Knockmore. Knockmore in Irish is "An Cnoc Mór", meaning "The Great Hill".  This boggy mountain is the highest on the island and stands 462m tall. Please take care navigating this trail specially if the visibility is poor as parts of the ascent can be very steep and potentially pathless over grassy and sometimes boggy slopes. This is a challenging loop that offers great views on a clear day. Descending via the signal tower is shallower but longer and will lead you on to a dirt track and then a road from Toremore back.
Terrain: Surfaced roadways & green tracks
Distance/Difficulty: 3km/ Moderate
Ascent: 110m / 140m
Duration: 2 hr – 2hr30mins
The Knocknaveen Loop follows the surfaced road for 1.5km to reach a Y-junction where it veers right onto a minor roadway in the direction of the Abbey. Passing the abbey the loop follows the roadway for 1.5km where it turns right onto a grassy track and around the northern side of Knocknaveen Mountain. The green track continues for 2km and rejoins the Fawnglass Loop at a metal gate at the 3 way junction mentioned above. Passing through the gate, both loop descend for 200m to reach another gate which takes the walker onto a surfaced 'bohereen' beside the old schoolhouse. Turning right, both loops continue the descent to Capnagower – passing the Gaelic Football pitch on the way. Turning right again the loops follow the road alongside the small beach to reach the trailhead. Don't forget your camera along this route for some epic shots of the cliffs and small loughs of Creggan and Leinnapollbruty.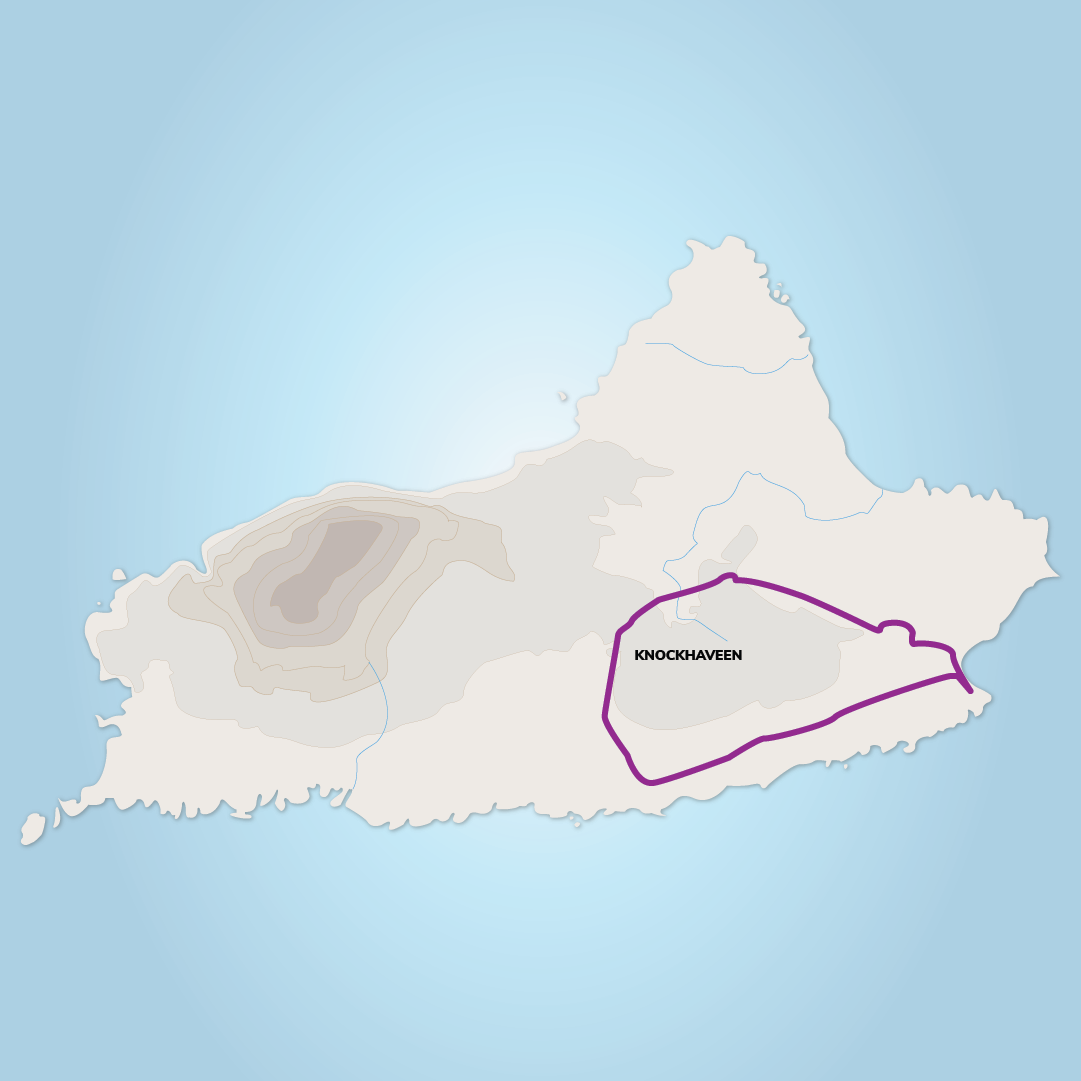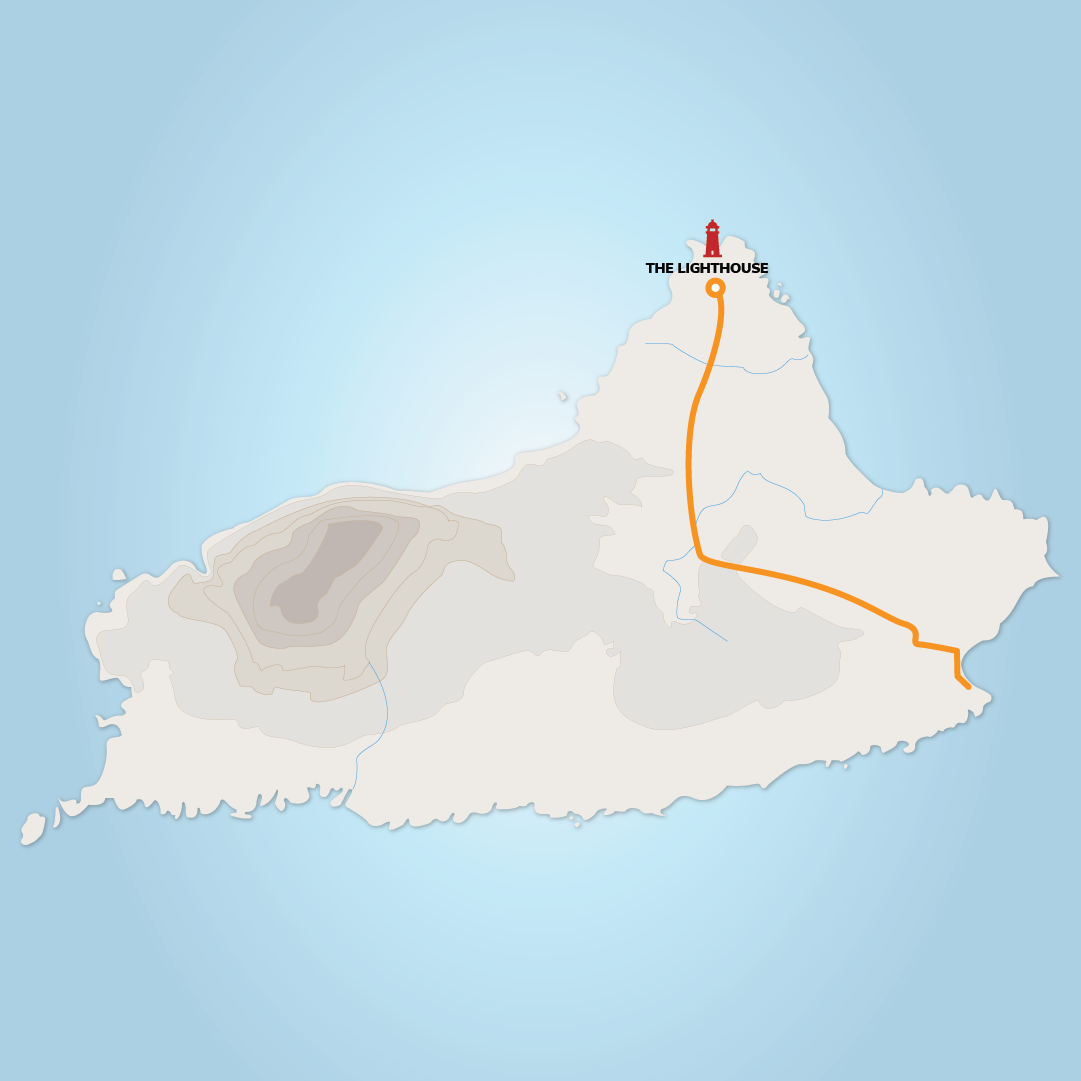 Terrain: Surfaced roadways & green tracks
Distance/Difficulty: 4.4km / Moderate
Duration: 40-45 mins
Starting at the pier, follow the road that leads to the right and continue past the Clare Island Community Centre. Take a right at the Stone Barn Cafe, walking through Ballytoohy. It's an uphill trek to the site but the view is worth it – walk to the right of the lighthouse and witness Achill Island, Croagh Patrick, and the North Connemara Mountains in one spectacular sweeping view